Where are You Wondering?
Discover Wonder Hotspots nearby and join!
EXPLORE WONDER HOTSPOTS
Wonder with Olivia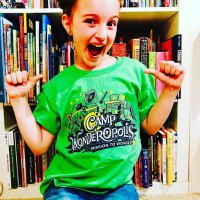 Student Wonder Ambassador
TheLivBits
Always be on the lookout for the presence of WONDER!E.B. White
This back to school blog post is for the teachers of my little sister, Charlotte. On August 31st, she will start kindergarten. Since I won't be at the school where Charlotte is going, I thought I would write a list of "Char-isms" for her teachers, in case they need help while I am not there because let's face it, she IS sort of a handful. Hehehehehe!
View all blog Posts
What Are You Wondering?
Join in the Wonder Creation
Make YOUR wonder a wonderful reality!
...Questions in the Wonder Bank and counting! Here are the latest...
Latest from the Wonder Bank
How do you tubers make money?

Max

Why light travels faster in vacuum?

Answer

is dirt worm poop

savannah

Why Is fortnite so addictive?

Elliot

how does pollution happen?

kylei

Is Friday the 13th really unlucky

Jacob

Is Friday the 13TH really unlucky

Jacob

How Are Zits Created?

Emory

Did Aesop Really Write Down His Fables?

Emory

Why do dogs bark?

Kate

How do scientists know that their theories are correct?

Sienna

Why Dinasours were called "Dinasours"?

Monica

are penguins and puffins related

s

why is America called the U.S.A?

Alice

How many wonders does Wonderopolis get a day

Maxwell

What makes a star shine?

Mysha

who invented the zipper?

Sandra

is popping your knuckles bad for you

Caroline

What are the different parts of our brain

Willow

Why do most Japanese people have black hair?

Annabell

Weather

Christopher

Who is "Jake Paul"

Someone

What was the first thing in the world and how did it get there?

Someone

are monsters real

Chani

how was the titanic built

owen

When was kpop created

Samantha

Is dirt worm poop?

Shylah

How many demons are there in the world

Dakota

how did the dab start

Dominck

What is naruto

Brandon
View all questions in the Wonder Bank
Top Nominated Wonder Questions:
+9016

Do girls remember their dreams more often than boys and if yes, why?

Lance — Louisville, KY

+8759

how was water created

Chiamaka

+6813

Can you mix water and air completly?

AL

+58

Why do Olympians bite their medals?

Sam — Glen Allen, VA

+46

How does weeds grow?

Rafiul — Sydney, AL

+38

How many animals are on earth?

helaina — clearwater, FL
Vote for wonder nominees
Spread the Joy of Wonder
GET YOUR WONDER DAILY
Subscribe to Wonderopolis and receive the Wonder of the Day® via email
Share with the World
Tell everybody about Wonderopolis and its wonders.
Wonderopolis Widget
Interested in sharing Wonderopolis® every day? Want to add a little wonder to your website? Help spread the wonder of families learning together.
Add widget
Wonderopolis Partners & Sponsors